Kadokawa published manga's 1st volume in bilingual edition in 2018
---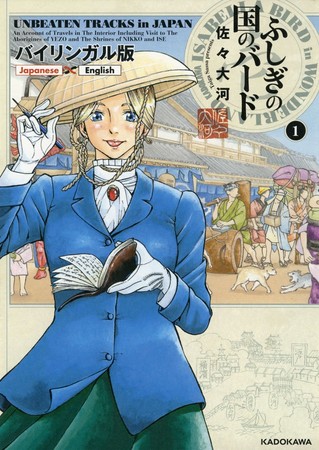 The 89th issue of Kadokawa's Harta magazine revealed on Monday that Taiga Sassa's Isabella Bird in Wonderland – Unbeaten Tracks in Japan (Fushigi no Kuni no Bird) manga will start its final arc in the magazine's 90th issue on December 15.
Kadokawa published a bilingual edition of the first volume of the manga in January 2018. The manga offers a look at Japanese culture from the eyes of female British adventurer Isabella Bird, who traveled from Tokyo to Ezo (the area now known as Hokkaido) in the early Meiji era.
The bilingual edition, aimed at both beginner and advanced students of English in Japan, has English text in the panels with Japanese text in the margins. The edition includes an interview with Sassa as a limited edition bonus along with commentary and a column by Ryohei Kawai, a British media journalist.
Sassa launched the manga in Harta in 2013, and Kadokawa published the eighth compiled volume on April 15.

Source: Harta 89
---