---
This year's 23rd issue of Shogakukan's Big Comic Superior magazine revealed on Friday that Takayuki Yamaguchi will launch a new manga in the magazine's first 2022 issue on December 10. The manga is titled Gekkō Kamen (Moonlight Mask), although it is currently unclear if the manga has a connection to the superhero character of the same name that debuted in Japan in the 1950s through television shows and films. The tagline on the preview image for the manga reads, "I will not surpass the vessel. That is surely my power."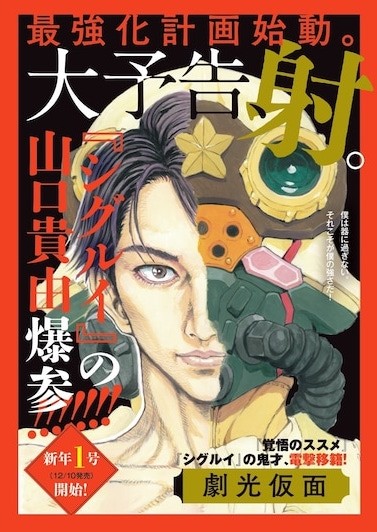 Yamaguchi launched the Efu no Shichinin (The Seven Palatine Ninja) manga (pictured at right) in Akita Shoten's Champion RED magazine in March 2015, and ended the series in November 2020. The manga has 10 compiled volumes.
Yamaguchi drew the Kakugo no Sasume (Apocalypse Zero) manga in Akita Shoten's Weekly Shōnen Champion magazine from 1994 to 1996. Media Blasters published the first six volumes of the series in North America in 2005 and 2006. The science fiction series also received an original anime video (OAV) directed by Toshihiro Hirano in 1996. The manga inspired a spinoff manga titled Kaika no Susume by Shizuku Ichigono.
Yamaguchi also drew the Shigurui manga, which adapted part of Norio Nanjo's historical novel Suruga-Jō Gozen Jiai. The manga ended in 2010. The manga inspired the Shigurui: Death Frenzy television anime series in 2007. Funimation released the anime in North America.
Image via Comic Natalie

Source: Big Comic Superior issue 23
---