Also: Dungeon People manga
---
Seven Seas announced on Wednesday that it has licensed the Irina: The Vampire Cosmonaut light novel series, and the I Am Not a Succubus! and Dungeon People manga.
Seven Seas will release the first volume of Keisuke Makino and Karei's Irina: The Vampire Cosmonaut (Tsuki to Laika to Nosferatu) light novel series physically in August 2022 and early in digital format.
The company describes the story:
In an alternate version of the 1960s, two global superpowers have emerged after a savage war: the Zirnitra Union and the United Kingdom of Arnack. East and West are locked in a fierce race to send the first crewed flight into outer space, leading the Union to develop a secret agenda: the Nosferatu Project, which aims to use vampires as spaceflight test subjects. Similar to humans but feared and reviled, vampires are assumed to make the perfect "guinea pigs" for such a dangerous task. Lev Leps, a Union soldier and aspiring cosmonaut, is tasked with overseeing vampire Irina Luminesk aka N44, who has been chosen for the operation–and he can't quite detach his feelings from the vampire girl as planned. Faced with pressure and peril, will either of them manage to fly into the cosmos?
Shogakukan's Gagaga Bunko light novel imprint launched the novel series in December 2016. Sojihogu launched a manga adaptation of the novels in Kodansha's Comic Days website in March 2018, but went on indefinite hiatus beginning in January 2019 due to Sojihogu's poor health. It has not yet resumed. The series is inspiring a television anime that premiered on TV Tokyo on October 3.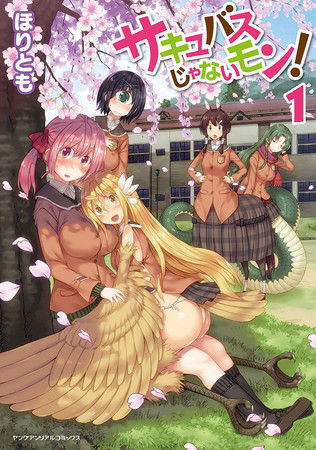 Seven Seas will release the first volume of Horitomo's I Am Not a Succubus! (Succubus Ja Nai Mon!) manga physically and digitally in May 2022.
The company describes the story:
Adjusting to a new school is always rough, and that goes double for Sakura, a shy human who is transferred to an academy that's monster girls only! Sakura's new classmates include a kiss-curious harpy, a sarcastic lamia, a cyclops who has her eye on Sakura, and a plain-spoken centaur who treads cautiously down hallways full of lusty demons. Eager to blend in, and with a body that convinces, Sakura lies and declares herself a succubus. But can she keep up the ruse, and keep her new friends' hands, claws, and scaled coils off her? It's going to be one long, hot school year!
Horitomo launched the manga in Kill Time Communication's Comic Unreal magazine in 2016. The manga's fourth compiled book volume shipped in April.
Seven Seas will release the first volume of Sui Hutami's Dungeon People (Dungeon no Naka no Hito) manga physically and digitally in July 2022.
The company describes the story:
Clay was trained by her father to be an expert member of the thieves' guild. Since her father disappeared three years ago, she's been using her skills to search for him in a dungeon filled with goblins, a Minotaur, and all manner of other dangerous creatures. When Clay reaches deeper than anyone ever has before, she meets the caretaker of the dungeon. To her surprise, Clay is invited to join the staff! And thus begins Clay's new job–to learn the inner workings and behind-the-scenes secrets of the dungeon from the inside.
Hutami launched the manga on Futabasha's Web Action manga website in 2020. The first compiled book volume shipped in February.
Source: Press releases
---