The Pokémon TCG has announced the next round of V Battle Decks. These decks kicked off in 2021, replacing the long-held tradition of theme decks which featured cracked ice holographic versions of cards that were normally not holo from an official set. Now, these decks offer brand new SWSH Black Star Promos with the two cards featured here being the Lycanroc V and the Corviknight V.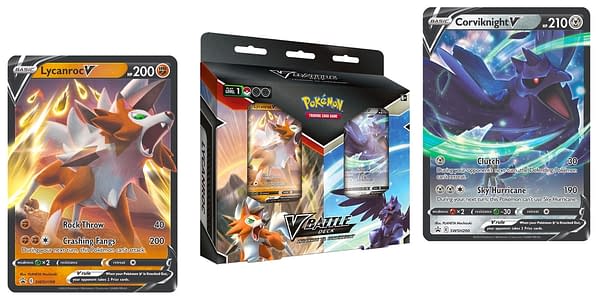 The Pokémon TCG describes the new V Battle Decks:
Each V Battle Deck provides everything a Trainer needs to play a game, including one 60-card deck and gameplay accessories. The V Battle Deck—Lycanroc vs. Corviknight bundle version comes with two ready-to-play decks that make it easy to jump into a Pokémon TCG battle, as well as eight additional Trainer cards to help enhance the decks. Arriving in the first quarter of 2022, these decks also make great companions and extensions to Battle Academy, as Trainers can swap out the cards in the board game with those in the V Battle Decks.
Right now, we know that these decks will be released in individual decks as well as the bundled "vs" version pictured above. The Pokémon TCG has not yet given a specific date for these beyond the first quarter of 2022, but Bleeding Cool will be here to report when a more concrete date is announced.
Here is a breakdown of the upcoming SWSH Black Star Promos and which Pokémon TCG products they can be found within:
SWSH179 Flareon V: Flareon VMAX Premium Collection
SWSH180 Flareon VMAX: Flareon VMAX Premium Collection
SWSH181 Vaporeon V: Vaporeon VMAX Premium Collection
SWSH182 Vaporeon VMAX: Vaporeon VMAX Premium Collection
SWSH183 Jolteon V: Jolteon VMAX Premium Collection
SWSH184 Jolteon VMAX: Jolteon VMAX Premium Collection
SWSH185 TBD
SWSH186 TBD
SWSH187 TBD
SWSH188 TBD
SWSH189: Flapple: Brilliant Stars Single Pack Blisters
SWSH190 Eevee: Brilliant Stars Single Pack Blisters
SWSH191 Leafeon: Brilliant Stars Three Pack Blisters
SWSH192 Glaceon: Brilliant Stars Three Pack Blisters
SWSH193 TBD
SWSH194: Leafeon V: Leafeon VSTAR Special Collection
SWSH195 Leafeon VSTAR: Leafeon VSTAR Special Collection
SWSH196 Glaceon V: Glaceon VSTAR Special Collection
SWSH197 Glaceon VSTAR: Glaceon VSTAR Special Collection
SWSH198 TBD
SWSH199 Lycanroc V: V Battle Deck—Lycanroc vs Corviknight
SWSH200 Corviknight V: V Battle Deck—Lycanroc vs Corviknight