LITG: The world can seem like a terrible and strange place sometimes, but at Bleeding Cool, you can still read all about comics, merch, TV shows, games, movies, and more. The Daily Lying In The Gutters remains a long-running run around the day before and the day ahead. You can sign up to receive it as an e-mail here. The world keeps turning, and America is beginning to heal from all the burns. Even if a few scabs need pulling off first.
LITG: The ten most-read stories, yesterday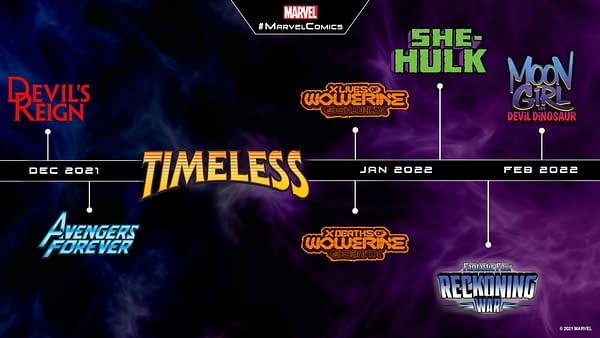 More Thoughts About Today's Big Marvel Announcements
Marvel Announced Many Timeless Projects For 2021 and 2022
Did Charlotte Flair& Nia Jax Shoot On Each Other Last Night?
After Almost Two Decades, Marvel Finally Announces The Reckoning War
Superman/Lobo Gets Patton Oswalt Effect Over "Anti-Savers" Hashtag
Marvel Announces Avengers Forever From Jason Aaron and Aaron Kuder
Big Marvel Comics Plans To Be Announced Tomorrow?
Marvel Comics Launches Daredevil 2021 Event, Devil's Reign
Last Day to Back the Marvel Legends Galactus HasLab Campaign
Letitia Wright Signed Marvel Contract For Many Movies (Spoilers)
ICYMI: more you may prefer from yesterday.
In case you fancied more LITG about comics.
LITG one year ago, Pokemon, Tim Drake and Mad Men
Niantic Responds To Mega Evolution Controversy In Pokémon GO
Tim Drake is Robin Again, Damian Wayne is Not
The Rarest Generation One Shiny Pokémon In Pokémon GO
Mad Men: Welcome to the Longest Twilight Zone Episode Ever Made
Drag Race Season 7: Too Much "Meh" But RuPaul Series Still Entertaining
It's Always Sunny in Philadelphia: Glenn Howerton On Season 15 Status
Marvel Boy and Hercules Are An Item Now – Guardians Of The Galaxy #6
WWE Payback Results: Has the Rollins/Mysterio Feud Finally Ended?!
NECA's New King Kong Figure Is Plastic Monster Goodness
The Joker Gets a Chase Variant Figure from McFarlane Toys
Steve Ditko Designed Spider-Man to be Orange and Purple
Transamerica Tyres Beats DC Comics Over Swamp Thing Trademark
Marvel Cancels Hellstrom: Prince Of Lies Collection
Scott Snyder Teases New Comics With Francis Manapul and Jock
DC Comics, Please Don't Forget The Comic Shop On Batman Day
LITG two years ago, Conan, Brian Wood and Dragon*Con
The details of the Diamond/Ablaze battle over Conan are ones I would really like to revisit one day.
Diamond Cancels Conan Comics – Cimmerian: Queen Of The Black Coast – Over Legal Threats
Dark Horse Cancels Brian Wood's Aliens: Colonial Marines: Rising Threat Over New Allegations
TSA Held Comic Creator For Hours at Airport Ahead Of Dragon*Con
Many New Games Workshop Releases Unveiled at NOVA Open
Laura Hudson Talks About Brian Wood, Sexual Harassment and Tess Fowler
"Better Call Saul" Season 5: Bob Odenkirk – "It's Going to Blow Your Mind"
"The Diary of River Song: Series Six": Fan Service at Its Purest [REVIEW]
"It's Always Sunny in Philadelphia" Season 14: Choking Frank [PREVIEW]
When Black Panther's Costume Was Redesigned at Marvel to Placate Racists
"This Is Us" Season 4 Teases Big Changes; Images Released [PREVIEW]
Comic Book birthdays today.
There might be partially slightly more of a party atmosphere right now. It all depends on which state you are living in. But comics folk are still getting older and still celebrating that special date with twelve years for us as well.
Patty Jeres, former Director – Marketing Communications of DC Comics, Talent and Industry Relations Chair at Prism
Mark Stafford, artist on The Man Who Laughs, Cherubs, Liphook, The Bad Bad Place.
Joe Jusko, of the Marvel Masterpieces trading cards.
Roy Thomas, writer of Avengers, Captain Marvel.
Jimmy Leszczynski, comic book journalist.
Holly K Golightly, artist on Nightmare Theatre, Sabrina, creator of Vampfire and School Bites, publisher of Broadsword Comics.
Shane Berryhill, writer of Sherwood Texas.
Seymour Miles, writer X-O Man-O-War.
Troy Brownfield, comics journalist.
Subscribe to our LitG Daily Mailing List.
Interested in more discussion about wrestling, Twilight Of The Superheroes, Pokemon, Red Hood, or what this all means? Subscribe to our LitG Daily Mailing List. And we'll see you here tomorrow.