Comikey to start releasing manga set in 12th century Mongolia in English this month
---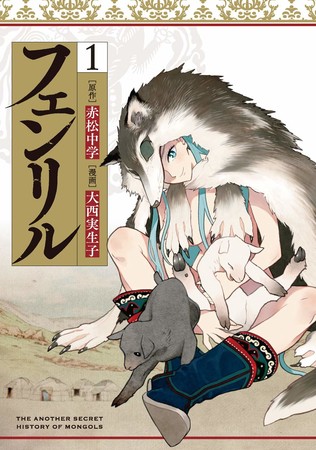 Amazon is listing that Chūgaku Akamatsu (Aria the Scarlet Ammo) and Mioko Ohnishi's (Battle Royale: Angels' Border) Fenrir manga will end in the fourth volume, which will ship on January 25.
Square Enix's Monthly Big Gangan magazine had teased last month that the manga will reach its climax in its next issue on November 25.
Akamatsu and Ohnishi launched the manga in Monthly Big Gangan in August 2018. Akamatsu is writing the story, while Ohnishi is drawing the art. Square Enix published the manga's third volume on March 25.
Digital manga publisher Comikey announced on November 6 that it has licensed the manga, and will start releasing the series later this month. The company describes the story:
Somewhere among the violent and chaotic grasslands of 12th century Mongolia, lives a boy named Temujin. One day, while on the brink of death, he has a fateful encounter with a beautiful and mysterious woman that will affect history. This is the story of a boy who will shake the earth.
Akamatsu's ongoing Aria the Scarlet Ammo (Hidan no Aria) novels inspired an anime in 2011. Funimation streamed the anime as it aired, and released it on Blu-ray Disc and DVD in 2012. Yoshino Koyoka drew a 16-volume manga adaptation of the novels, a four-volume Hidan no Aria: Shiden no Majo continuation, and is currently drawing the Hidan no Aria: G no Ketsuzoku sequel. Digital Manga Inc. previously released three volumes of the original manga digitally.
The novels also inspired Shogako Tachibana's 14-volume Aria the Scarlet Ammo Double A (Hidan no Aria AA) spinoff manga. The manga inspired a 12-episode television anime adaptation that premiered in October 2015. Funimation streamed the anime, and also released the anime on Blu-ray Disc and DVD in April 2017 with an English dub.
Ohnishi and Youhei Oguma drew the art for the Battle Royale: Angels' Border manga, with an original story by Koushun Takami, based on his dystopian novel Battle Royale. The manga launched in Akita Shoten's Young Champion magazine in January 2011, and Akita Shoten published the one-volume manga in January 2012. Viz Media published the manga in June 2014.
Source: Amazon
---