|

Amazing Fantasy #15 is coming up on a record sale today at Heritage Auctions. The copy of the book, a CGC 9.6 if you can believe it, is only the fourth on record to achieve that grade. no copy has ever obtained a 9.8. One wonders what stress those who work at CGC felt while handling this book. I for one would want nothing to do with it, I would ruin it, I know it. Currently, this copy as of this writing is at $2.8 million. This has a real shot at selling for over $3 million, a record for this book and up there for highest of all-time. You have to see this book below.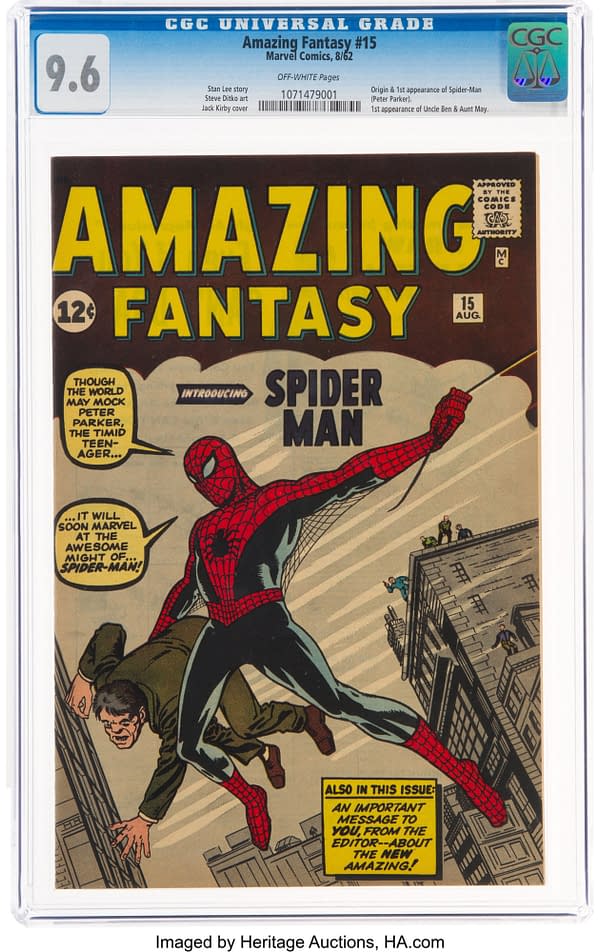 Amazing Fantasy #15: Where Will It End?
"Amazing Fantasy #15 (Marvel, 1962) CGC NM+ 9.6 Off-white pages. In the running for the most desirable comic we've ever offered is this pristine copy of the origin and first appearance of Spider-Man. No 9.8 has ever been certified by CGC, and as you see below, just three others have hit 9.6.
This is an image we think you'll be staring at for some time, and we certainly did the same. The cover is a familiar sight, but with nary a blemish, chip, or color break? That's a remarkable sight indeed. This issue had what is surely the best-known Marvel story — the many movie adaptations have seen to that — and one of the best-known origin stories in the entire comic book medium, featuring Peter Parker gaining his spider-powers and the death of his beloved Uncle Ben. That story was by Stan Lee and Steve Ditko, and the unforgettable cover was by Jack Kirby. Spider-Man was such a hit that he was next seen in his own book, Amazing Spider-Man #1, and the rest was history. Heritage has been auctioning comic books for 20 years, and in seemingly every one of those 20 someone has reached out to us asking if we knew the whereabouts of one of the 9.6 copies of this book. Well, now we do and so do you — this is your chance! Overstreet 2021 NM- 9.2 value = $450,000. CGC census 9/21: 4 in 9.6, none higher. From the #1 Amazing Spider-Man Registry Set Collection."
What else is there to say? This is an auction that will be talked about forever. And it is happening right now. Go here for more info and pics, and to follow along throughout the day and see where this one ends up. Or bid if you have the money. If you do, let me know, I have some books I want you can buy for me too while you are at it.