The upcoming weekly series by Benjamin Percy, Joshua Cassara and Federico Vicentini,  The X Lives Of Wolverine and The X Deaths Of Wolverine, will be collected as one single hardcover, The X Lives And Deaths Of Wolverine, just as House Of X and Powers Of X, from Marvel Comics in May 2022. We know that this means 10 Lives for Wolverine but an unknown number, X deaths, as the series begins in January. intended to be the ultimate Wolverine story, it will "tell two interlocked tales about what happens to Wolverine when…His Pasts Meet His Future."  But now Bleeding Cool has a little more of an explanation – and a cover too.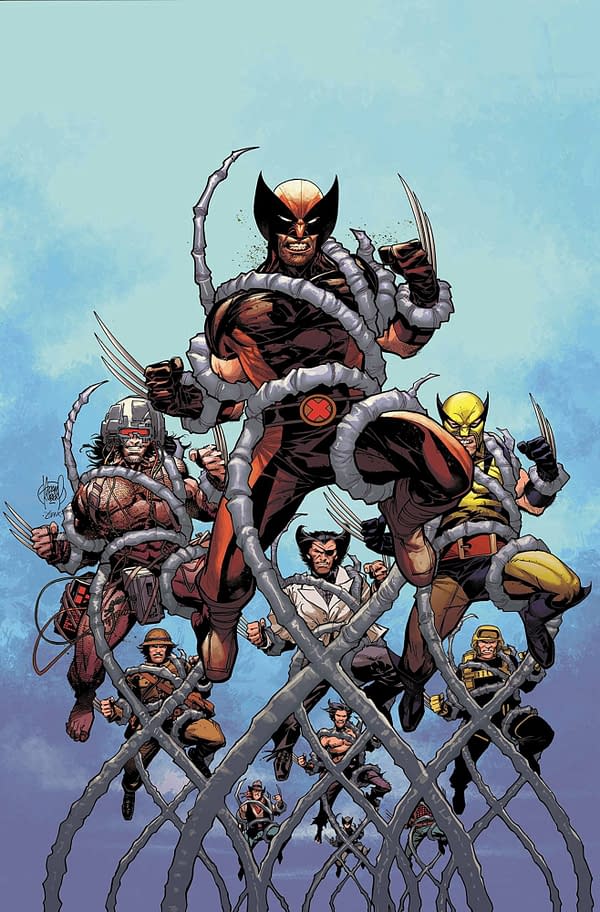 The most expansive Wolverine story of all time! Logan. James Howlett. Weapon X. The mutant known as Wolverine has lived many lives under many identities, but never before has the fate of the future been so entwined with his past! To prevent a terrible tragedy, Logan must travel to various points in time to prevent the death of a key figure in mutant history. But that is only the beginning…because for every life, there is a death! Fan-favorite eras are explored anew, along with never-before-seen periods in Wolverine's century-long life! Benjamin Percy presents a time-shredding saga across all of Wolverine history…and futures yet to come!
Various points in time to prevent a death of one person? Might that be Moira Mactaggert, whose death would mean an instant reset of the entire universe to the moment of her birth? The walking red button reset in character form? And who will be central to the Inferno story currently being told by Jonathan Hickman? Maybe more will be announced at this week's New York Comic-Con – or will we have to wait for Marvel comics' January solicitations?